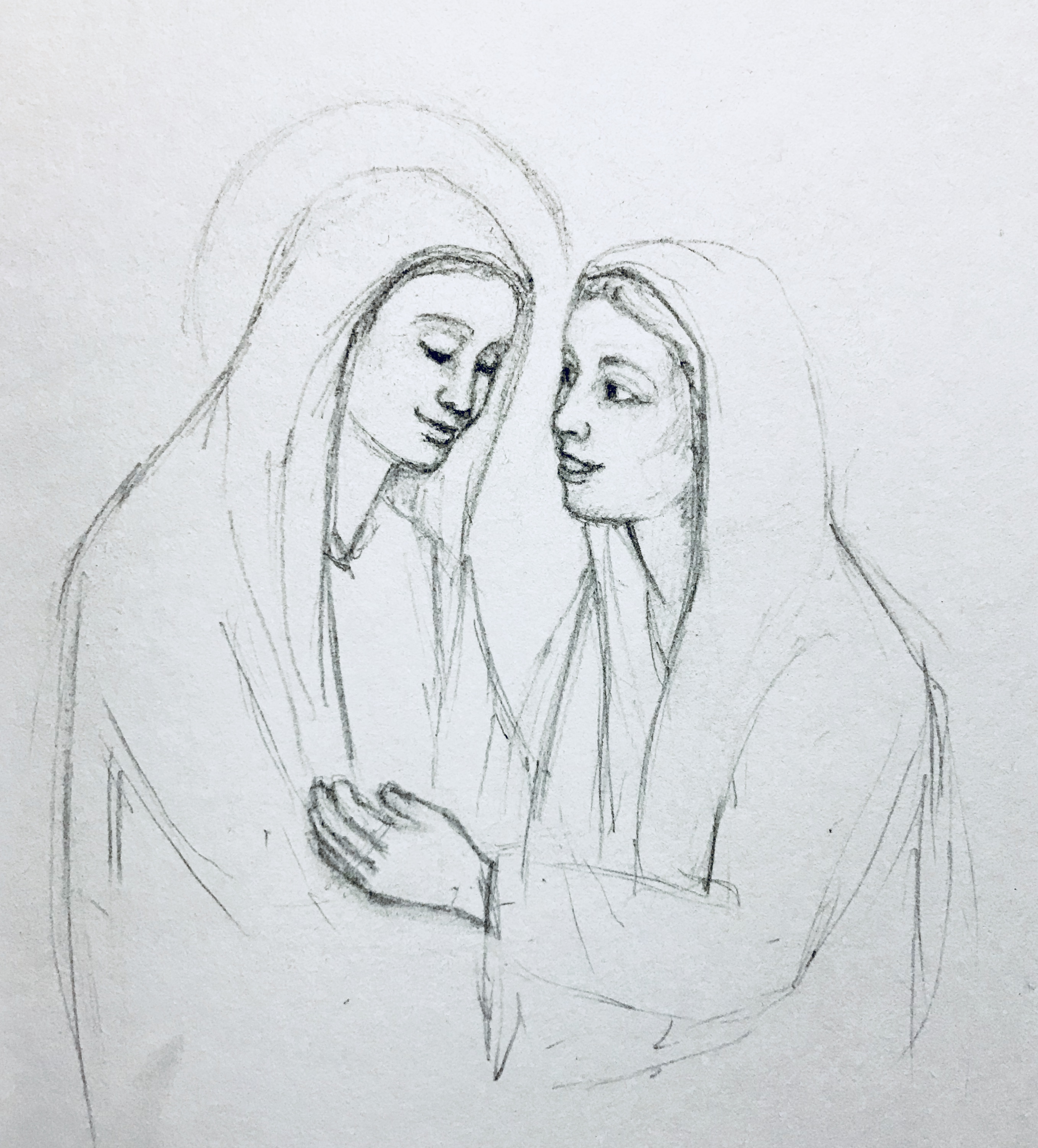 The hidden figures of the Visitation reveal a great mystery. Jesus and St. John the Baptist are both powerfully present and active well before they are even born. For St. John the Baptist this is a great grace – it was by no human quality or disposition that he came to know and rejoice at the voice of the mother of his Savior. The divine gift of prophesy and the motion of the Holy Spirit are the only possible explain for John's in utero dance of jubilation. The most important events in our own personal history of salvation are similar: as glad and as free as we were to come to know our savior in a more meaningful way, it was always, "a total God move." Even the gift of prophesy which helps us to see the way God is moving in the world in a mysteriously clear way is still God moving first our mind. We can cleverly attribute the text of the Psalm 138 as Jesus speaking to John the Baptist,
"Already you knew my soul,
my body held no secret from you
When I was being fashioned in secret
and molded in the depths of the earth."
John the Baptist shares his knowledge of Christ with his mother by his Joy and by his dance.  This raw communication of profound joy and communion is initiated by the Word totally hidden in the womb of the Blessed Virgin Mary.  Elizabeth, without any explanation immediately understands her unborn child's divine message – this is the work of grace in the heart of Elizabeth.  When we say that God likes to remain hidden in His work of grace, we don't mean that the natural world continues about as it would if God had simply set everything in motion and walked away.  It means that for those who look for it, for those used to hearing to the Voice, it strikes them in an undeniable way.  John the Baptist, who delighted as he heard the name of his own mother pronounced by the mother of the Word was prepared and sanctified by that voice to enter the womb of that prison cell where he would give his final witness to Jesus.
THEODORE OF MOPSUESTIA:
The Lord will now be in your midst, showing his kingship by his care for you, so that trouble will no longer be able to approach you.1
ORIGEN:
I think that any love without God is artificial and not genuine. For God, the Creator of the soul, filled it with the feeling of love, along with the other virtues, so that it might love God and the things which God wants. But if the soul loves something other than God and what God wants, this love is said to be artificial and invented. And if someone loves his neighbor but does not warn him when he sees him going astray or correct him, such is only a pretense of love.
Perhaps it seems odd to find hatred listed among the virtues, but it is put here of necessity by the apostle. Nobody doubts that the soul has feelings of hatred in it; however, it is praiseworthy to hate evil and to hate sin. For unless a person hates evil he cannot love, nor can he retain the virtues. For example, if someone intends to preserve chastity, he cannot keep it safe unless he hates and despises immodesty.2
CHRYSOSTOM:
If you have love, you will not notice the loss of your money, the labor of your body, the toil of your words, your trouble or your ministering, but you will bear everything courageously.3
AMBROSIASTER:
Brotherly love is useless unless it is mutual.4
ORIGEN:
It happens that we hate things we ought not to, just as we love things we ought not to. We are ordered to love our brothers, not to hate them. If you think that someone is ungodly, remember that "Christ died for the ungodly." And if you think that because your brother is a sinner you do not have to love him, remember that "Christ Jesus came into this world to save sinners." But if he is righteous, then he is much more worthy of love, for "God loves the righteous."5
CHRYSOSTOM:
You should love one another because you are brothers and have been born from the same spiritual womb. … There is nothing which makes friends so much as the earnest endeavor to overcome one's neighbor by honoring him.6
PELAGIUS:
You should love one another as if you had been born of the same mother. If we always observed this injunction we would maintain love and patience. For if we considered ourselves less than everyone else we would neither insult anyone gratuitously nor be deeply hurt if someone insulted us.7
AMBROSIASTER:
Daily meditation removes laziness and makes people vigilant.8
CHRYSOSTOM:
Love by itself is not enough; there must be zeal as well. For zeal also comes out of loving and gives it warmth, so that the one confirms the other. For there are many who have love in their mind but who do not stretch out their hand. This is why Paul calls on every means he knows to build up love.9
ORIGEN:
The person who does not look at what can be seen but eagerly waits for what cannot be seen is the one who rejoices in hope.10

We must not look on the saints [people of God] as beggars but see them as people who have needs like our own.
The practice of hospitality does not simply mean that we should entertain those who come to us. It means also that we should go out and invite others to come in.11
ORIGEN:
Here we must make a clear and appropriate distinction. For the joys of Christians are not to be linked with every sort of joy, nor are our tears to be connected with just any sort of tears. For if I see people rejoicing because they have made a lot of money, or acquired a lot of property, or gained worldly honor, I ought not to rejoice with them, because I know that sorrow and tears follow joys of that kind.
Therefore we ought to rejoice only with those whom we see doing a work which deserves to be written in heaven, whether it is a work of righteousness, of charity, of peace or of mercy.… Likewise, if we see people turn from error, leave the darkness of ignorance behind and come to the light of truth and the forgiveness of sins, we ought to rejoice with them.
Likewise, in weeping with those who weep we ought not to weep with those who are mourning their dead or losses in this world.… Our tears ought not to be joined with theirs; rather we should weep for someone who is weeping for his sins, who after doing wrong is converted to repentance and who is washing his error in tears. We ought to weep with someone who groans at finding himself in this position and wants to return to Christ, and his holy desire is consoled by an outpouring of tears.12
CHRYSOSTOM:
If a poor man comes into your house, behave like him and do not put on airs because of your riches. In Christ there is no rich or poor. Do not be ashamed of him because of his outward dress, but receive him because of his inward faith. If you see him in sorrow, do not hesitate to comfort him, and if he is prospering, do not feel shy about sharing in his pleasure.… If you think you are a great person, then think others are also. If you think they are humble and lowly, then think the same of yourself.13
THEODORET OF CYR:
"Never be conceited" means: Be ready to accept the advice of others.14
ORIGEN:
Better men go to weaker men to give them some advantage by their visits. Thus the Savior came to John to sanctify John's baptism.… Jesus was in her womb, and he hastened to sanctify John, who was still in his own mother's womb. Before Mary came and greeted Elizabeth, the infant did not rejoice in her womb. But as soon as Mary spoke the word that the Son of God, in his mother's womb, had supplied, "the infant [John] leaped in joy." At that moment Jesus made his forerunner a prophet for the first time.15
BEDE:
She went so that she could offer her congratulations concerning the gift which she had learned her fellow servant had received. This was not in order to prove the word of the angel by the attestation of a woman. Rather it was so that as an attentive young virgin she might commit herself to ministry to a woman of advanced age.16
MAXIMUS OF TURIN
Before his eyes can see what the world looks like, he can recognize the Lord of the world with his spirit. In this regard, I think that the prophetic phrase is appropriate: "Before I formed you in the womb I knew you, and before you came forth from the womb I sanctified you."4 Thus we ought not to marvel that after Herod put him in prison, he continued to announce Christ to his disciples from his confinement, when even confined in the womb he preached the same Lord by his movements.17
BEDE:
Indeed, by a "great" voice is not to be understood so much a loud voice as a devoted one. She was not capable of praising the Lord with the devotion of a moderate voice. Being full of the Holy Spirit, she was on fire, harboring in her womb the one than whom no one of those born of woman would be greater.18
PRUDENTIUS:
The babe in senile womb
Greets through his mother's lips the Virgin's Son,
Our Lord; the child unborn makes known the cry
Of the Child bestowed on us, for speechless yet,
He caused that mouth to herald Christ as God.19
AMBROSE:
Let the soul of Mary be in each of you, so that it magnifies the Lord. Let the spirit of Mary be in each of you, so that it rejoices in God.15 She is the one mother of Christ according to the flesh, yet Christ is the Fruit of all according to faith.20
Footnotes