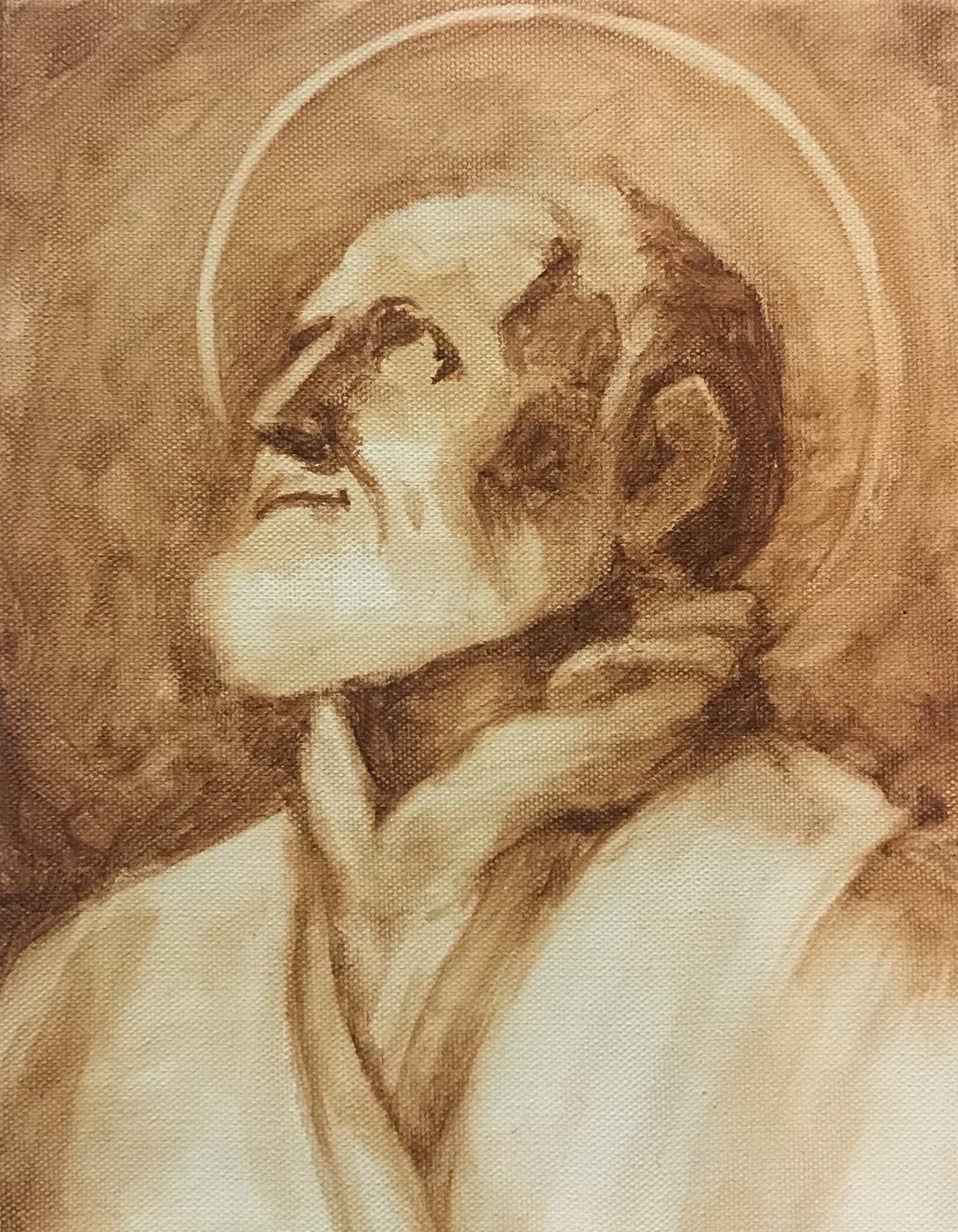 St. Philip certainly had a rare gift.  He was filled with the love of God to such a great extent that he became irresistible to all those whom he met.  He had a great desire to love people for who they are because he experienced the love of God in an extraordinary way.  He gives us the consoling example that our religion is not first about a form or practice of piety but rather about a heart that burns to love and meet people as they are, and burns to love God as He is.  Sometimes we hear ourselves saying, "if only this person was <blank>" or "if God is so good why doesn't He <blank>."  We extinguish the fire of love in our hearts by requiring God and others to conform to the way we would prefer them to be.  The secret to Philip Neri's heart was how it would burn through all expectations and requirements He could have put on others and on God.
God's sacraments are signs and real instruments of His grace and healing.  Just as there is nothing we can do to earn God's grace by being on our best behavior, so we cannot earn the Sacraments by leading a perfect life.   God doesn't want someone to receive Him in the Eucharist because they lead a relatively sinless life.  He doesn't want people to receive the sacrament of Marriage or Ordination because they have exercised perfect continence and not ever broken the law or been in jail.  ALL of the sacraments are remedies for sin, NOT rewards for being goody goodies.  That does not mean that we should receive the sacraments indiscriminately when we are conscious of our sins.  The necessary condition for receiving the remedy of the sacraments is contrition and repentance.  The only ones who are excused from repenting before approaching a sacrament are infants who are being baptised.
Perhaps one of the difficulties involved in living out the sacrament of Marriage has to do with understanding how it too is a remedy.  This remedy is also only effective to the extent that it is understood as healing something that is otherwise broken between man and woman.  This healing can only truly be received by hearts that are honest and contrite for their offenses.  The same could be said in the sacrament of Ordination – this sacrament is also a remedy for something that is broken in the relation between God and man.  By becoming a priest, recognizing our own sinfulness and begging God's mercy, we become the instrumental source of God's remedies (sacraments) for all men.
ANDREAS:
What should you do when you are in trouble? Call on God. And what should you do when you are happy? Praise him.1
BEDE:
Just as James forbade people to complain to each other about their sufferings, so now he goes on to say how they should behave. If someone has suffered an injury, he ought to go to the church and pray that God will send him the grace of his comfort, so that the sadness of this world, which leads to death, will not overtake him.2

In order to prevent the foolishness of complaining, he told the injured person to pray and sing, and now he tells the person who is sick, either in body or in faith, to call the elders in proportion to the gravity of the illness which he is enduring. James does not advise this person to call the younger members of the church because they are less experienced in such matters and run the risk of saying or doing something which will make matters worse.3

We must use our common sense in applying this commandment. As far as small, everyday sins are concerned, we ought to admit them to one another and believe that we are saved from them by praying for each other. But if we have sinned in a more serious way, then we ought to follow the principle of showing our leprosy to the priest and do penance for it as much and for as long as he thinks is right.4
BRAULIO OF SARAGOSSA:
Since it would be a long and unpleasant task to reveal my sinful ways to you and to tell you everything in detail, it must suffice for me to reveal to your most holy mind that I am not what you believe, though I beg you to pray to God that he might make me what you believe.5
AUGUSTINE:
The Lord himself sets an example for us in this also. For if he who neither has, nor had, nor will have any sin prays for our sins, how much more ought we to pray for each other's sins! And if he for whom we have nothing to forgive forgives us, how much more should we forgive one another, knowing that we cannot live on earth without sinning!6
THEOPHYLACT:
The prayer of a righteous man is effective as long as the person who is being prayed for cooperates with his intentions. For if other people are praying for us while we are wasting our time in idleness and debauchery, their prayers will be useless.7
ORIGEN:
A man who converts others will have his own sins forgiven.8
BEDE:
James does all he can here to ensure that imperfect people like ourselves do not gloat over winning others away from their wicked ways and converting them to the truth by reminding us that we should be engaged in such work out of love for our brothers and sisters.9
AUGUSTINE:
When any people, you see, who are already of an age to make free decisions of will, approach the sacraments of the faithful, they cannot begin the new life unless they repent of the old. It's only babies that are exempt from this kind of repentance when they are baptized; after all they are not yet capable of making free choices.
However, the faith of those who present them for baptism can avail them for sanctification and the remission of original sin; thus whatever defilement of wrongdoing they may have contracted through others, of whom they have been born, they can be purged of it through the interrogation of these others and the replies they give.10
CYPRIAN:
Even to the foulest offenders, when they afterward believe, remission of sin is granted. On this premise no one is prohibited from baptism and grace. How much more should an infant be admitted, who, just born, has not sinned in any respect, except that, being born of the flesh according to Adam, has in his first birth contracted the contagion of the ancient deadly nature. Would not such a child obtain remission of sins with the less difficulty, because not his own actual guilt, but that of another, is to be remitted? Our sentence therefore, dearest brother, in the Council was that none by us should be prohibited from baptism and the grace of God, who is merciful and kind to all.11
Footnotes